Trends never stop shifting, but great coffee will always be in demand. Hamilton Beach Commercial® equipment for coffee shops stands apart for its quality and unshakable durability, even in the busiest environments.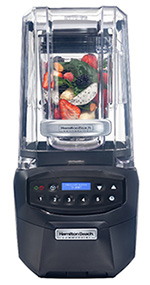 New for 2023, Hamilton Beach Commercial® will present its newest addition to beverage equipment, the Summit® Edge, to the NOLA Coffee Festival to bring its innovative capabilities to coffee industry professionals.
Built to handle challenging beverage recipes, the new Summit Edge delivers speed of service and one-touch convenience to every location and application using its groundbreaking combination of PowerBlend and AutoBlend. This blending powerhouse gives you an edge over the competition with fast, consistent results on even the toughest recipes. Plus, keep things moving during the rush with our patented AutoBlend technology, which stops when your drink reaches the ideal consistency. Carefully engineered and built to last for years of reliable performance, Summit Edge is the perfect blender for the demand of high-volume coffee shops, bistros, and cafes.
Plus, with the addition of the accessory AirWhip™ Frothing container for the Summit Edge, coffee shops can offer the latest trend for coffee, foam-topped beverages. The stainless steel disc allows operators to whip, froth, aerate and emulsify without moving to a separate piece of equipment.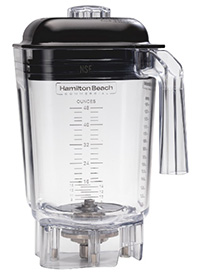 About Hamilton Beach Commercial®
Engineered for the Foodservice and Hospitality Industries
From large chains that rely on Hamilton Beach Commercial to deliver their signature frozen treats to local restaurants and ice cream shops that turn to us to execute their culinary vision, our customers represent a broad range of food service operations around the world. Our Commercial line of kitchen equipment features products such as high-performance blenders, juicers, vacuum sealers, immersion blenders, and automated drink mixers for both front-of-house and back-of-house applications – anywhere a business needs to support a high-volume food and beverage operation with customized menu items.

In our cafes, our goal is that you feel welcomed, seen, and heard, and that whatever coffee or pastry you choose fits what you're looking for. It's the service at the very end that completes the supply chain. There's an art to it. We want our cafes to be full of people from our community working, reading, and having conversations. Our staff is made up of some of the best coffee professionals in the states, and every drink, every interaction, every item is cared for, intentionally made, watched over, and executed to be exactly right.
For our hospitality customers, our breakfast bar, in-room amenity, and extended-stay lines are built for convenience and performance to deliver a premium guest experience. Easy maintenance, intuitive operation, and dependability make Hamilton Beach Commercial products like coffeemakers, irons, and hair dryers popular with major hotel chains.
And as part of the product development process for these very demanding customers, Hamilton Beach Commercial products are approved and warrantied specifically for high-volume commercial food service and hospitality usage. We are committed to serving your business in a way that will increase your sales, profitability, and customer satisfaction.
Reliable Technology. Smart Solutions. Bringing Good Thinking® to Foodservice and Hospitality Equipment Worldwide.
COMPANY:
Hamilton Beach
WEBSITE:
hamiltonbeachcommercial.com