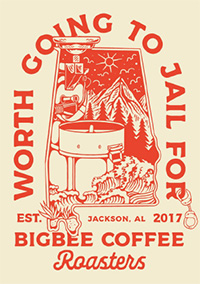 Ask Preston Quillen about the origin stories for his coffee and you'll get a big smile from the man making the best specialty coffee in central Alabama. Ask Quillen about the most famous overnight guests at his location in downtown Jackson, and you'll get an Allman Brothers story on the side.
Bigbee Coffee Roasters is based in the former Jackson city jail. "Both Duane and Greg Allman were locked up in our jail cells for 2 nights. Duane and Greg were the main members of that classic southern rock band and we have a little jail wall graffiti to show for it."
Quillen has also become a master of great coffee. He roasts everything in-house and takes great pride in the blends he has perfected by working closely with the Central American farmers who grow them. Folks drive from miles around for the new sensation at Bigbee Coffee Roasters.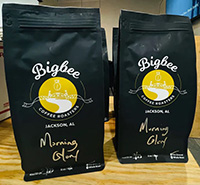 Jailhouse Light Blend – A 60/40 blend of Brazilian & Ethiopian with notes of Chocolate and Hazelnut rounded out by the Fruity notes of cherry, grapefruit and honey.
Morning Glory Breakfast Blend – A 50/50 Blend of Brazilian & Guatemalan with notes of Dark Chocolate, Berry, and Orange Blossom.
Midnight Revival Blend – 80/20 Blend of Java & Colombian with notes of Tobacco, Cedar, and Almond
Quillen and his family successfully navigated this coffee roastery through the 18 month covid slow down. "Lots of small town businesses really suffered. We did too; but we became determined to use that opportunity to develop new ideas for our coffee business."
"I'm working on a new collective of coffees that are solely Direct Trade /single origin beans. Our shops will be the only one (or one of a very few) that carry that specific bean(s). These are farmers we have met over the years and slowly built strong relationships. I believe we gain a business edge when we offer exclusive coffee blends. As a small business, we gain a much bigger market when we have demand to ship coffee beyond our city limits."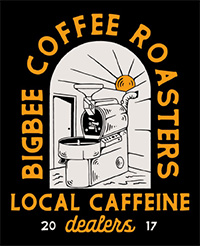 "I have a really good friend in Haiti, who is the CEO of HarvestCraft. They are now growing coffee beans in Haiti – this year will be their first harvest. I hope to have it in-house by September. Maybe I can bring samples to the NOLA Coffee Festival." "I also know a Mexican farmer who is a Pastor and restaurant owner in Tuscaloosa. Two or three times now, I have bought green coffee from his family back in Mexico. We are building a long term partnership with that Mexican coffee family. I've got another partnership started in Guatemala with an up and coming young farmer. I'm in progress working with a farm in El Salvador who is only a little known. Finally I'm working on a new Honduras coffee partnership which I hope to have samples from in time for September as well. This is a new day for coffee when small farms at origin can connect directly with small town coffee roasters like us."
We agree. Bigbee Coffee is a new face for southern coffee – and we can't wait to see what the new day brings.
COMPANY:
Bigbee Coffee Roasters
WEBSITE:
bigbeecoffee.com