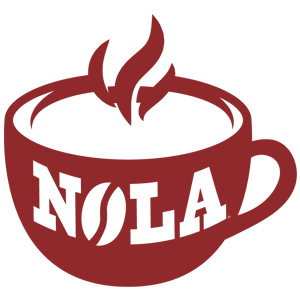 NEW ORLEANS – "What better way to celebrate coffee in New Orleans to commission than an actual barista to create our festival poster?" asks event co-founder Jim Currie. "Once we saw examples of Sarah Courtney's coffee-themed paintings, we knew we had the right artist for our project."
Her work is set in a field of deep blue and depict a neo-classic female coffee muse sampling an espresso. She holds a bouquet of coffee branches in one arm and sips from her hot coffee in the other. The posters will be sold as 12″x18″ prints – suitable for framing in Gulf South coffee shops.
The 2023 inaugural event poster has been created by Sarah Courtney and will be available for sale at the upcoming NOLA Coffee Festival (Sept 15-16). General prints are $10, a limited series of signed and numbered prints will be $20. Currie added, "Everyone in the local coffee industry has loved Sarah's image so much that we commissioned several more on oversized canvass and will have her augment them in a giclee style. This art is already becoming a favorite among our exhibitors."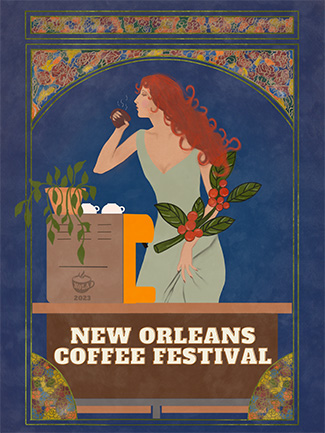 Courtney was asked about her inspiration: "This piece was a very collaborative effort. The team came to me with some references and ideas based on a very Art Nouveau, French Metro style poster. I was able to take inspiration from pieces like Henry le Monnier's "La Chaldisienne" and Maurice Realier-Dumas's poster from the 1895 Jules Mumm champagne ad for stylistic and compositional direction. We all really wanted to include New Orleans aspects. So I incorporated the stained glass effect as well as the obvious coffee aspects. As an event poster, it needed to be simplistic overall, with an eye catching color palette. I liked giving it a whimsical feel with a powerful person as the focal point. The plant going across the Goddess is a coffee cherry plant. Coffee is a gorgeous plant that bear coffee beans (or pits) as fruit."
"I want to give huge thank you to Lauren Fink for aiding me in finishing my voice in leadership in the coffee world and to my sister in law, Haley Poole who provided tremendous help in executing this art."
Courtney has spent many years working in the specialty coffee industry. "I have realized that it's much more rare for a woman, especially a single producer, to have the resources to import green coffee. The coffee industry is extremely male dominated in almost every aspect of coffee production. I love that the focal point of this piece is a woman. I'm so grateful for the opportunity to design the first ever NOLA Coffee Festival Poster."
The NOLA Coffee Festival is designed to be a celebration of all things coffee in one of America's most historic coffee cities. We seek to bring together coffee industry professionals and coffee enthusiasts alike under one roof for learning, collaboration and good times. Visitors to the NOLA Coffee Festival can expect to taste over 25 coffees from our regional roaster community and take part in over 60 hours of free coffee education. We expect the outcome to be a stronger regional appreciation for the impact coffee has both on our local economy and in our everyday lives. We also believe strongly that this event will help strengthen New Orleans' ability to one day recapture the title of Coffee Capital of America.
CONTACT:
Jim Currie, co-founder NOLA Coffee Festival
EMAIL:
Jim.currie.la@gmail.com
PHONE:
504-813-4656